Estimated reading time: 6 minutes
With over 8,000 branded podcasts landing on Apple in 2021, it's fair to say that plenty of brands are starting to use audio as a way to connect with their audience. But, what does success look like?
Most branded podcasts have relatively small, but very engaged audiences. But some have cut away from niche audiences and are actually delivering massive monthly audiences in their own right.
Here are 9 great branded podcasts that you should know about…
With consistently huge audience figures, PLT is definitely doing something right. Each episode explores a theme tailored to the interests of their core audience such as feminism, social media, careers and celebrity interviews.
However, in a world of fast-fashion where sustainability and workplace standards are constantly being criticised, how has this brand managed to achieve an audience that is the envy of many competitors?
It could be the Daily Mail effect – there is something innately addictive about the gossip of others. Or perhaps it's simpler than this. Despite their critics (and let's face it, having people protesting outside your fashion show definitely falls into this camp), Pretty Little Thing is wholeheartedly, and unapologetically, diverse and inclusive as a brand. They celebrate all walks of life and demonstrate that everyone can look great and be comfortable in their clothes. Maybe it's worth a listen to understand this more closely.
At the other end of fashion, where high-end luxury lies, there are quite a few players in the branded podcast space and CHANEL is no exception. Their podcast deep dives into the world of fashion and art and discovers the personalities behind the brands.
Their behind-the-scenes approach gives a sense of discovering a world which is inaccessible to so many. The music immediately sets the tone for the podcast and the mix of English, French, Mandarin, Korean and Arabic episodes makes it accessible to a diverse audience.
Once you find an episode to listen to in your language, there are also different types of episodes – 'Connects' and 'Masterclasses' are the most common forms but there is also a really lovely series that brings listeners to the Opera to bring insight into this artistic world. The guests span the world and range from Pharrell Williams and Es Devlin to Keira Knightley, Ayami Nakajo and Tilda Swinton. Definitely worth a listen to hear about the creativity, hard work and pure passion which inspires this sector. 
This podcast from Greenpeace differs from standard corporate responsibility stories. It has a much more 'human' approach. After all, it follows the people who took the Norweigan government to court, as they protested against them allowing oil extraction in the Arctic. 
Unburnable draws you into the story of this momentous legal challenge, and the global fight to protect our most fundamental human rights.
Not quite the catchy title that you might expect, but this podcast understands its audience perfectly. The content includes entrepreneurs sharing their experiences and offering advice for growing an online business on Shopify. It's the perfect podcast for their existing customers – adding extra value to those using Shopify – but it also inspires others to develop their own businesses. 
This beautifully scripted podcast explores the relationships between fathers and sons. The 6-part series is timeless in the exploration of the relationship and challenges which come with it.
What's most extraordinary about it is that each episode has an entirely different tone and perspective – much like many relationships between parents and their child. It's no wonder that this show won almost every award the year it was published.
From listening to the heart-wrenching journey of a father and teenage son as they navigate the dad's cancer diagnosis, or a broken relationship surrounding a family business, to an incredibly tender, and often witty, journey as a son encourages his father to enter the dating game. Each unique story will pull at your heartstrings and is well worth a listen if you haven't had the pleasure yet!
For a health and fitness brand, Nike has always led the pack. The brand inspires their audience to be brave and try new things – and their podcast is no different. The podcast revolves around the five facets of training: movement, recovery, sleep, nutrition and mindset. And the series builds on the foundation that 'Greatness isn't born, it's trained'.
This is a high-quality production, which opens up conversations such as how the menstrual cycle impacts performance and understanding the importance of mindfulness in sporting success. From speaking to some of the world's top athletes, to understanding the importance of sleep from Arianna Huffington, Nike's TRAINED has it covered.
Currently in its 9th season, Selfridges Hot Air has tapped into their audience's passion for culture.
Culture can be hard to define, yet it has the power to absorb and excite us. And this is exactly what this podcast strives to do too: to intrigue us, empower us and immerse us, using stories and angles from all corners of life.
SUPER FUTURES: What if…? is the latest series (currently, at the time of writing this blog). It asks big questions about what the future may look like, but does so through the curious, imaginative eyes of children. Hosted by writer Natty Kasambala, the series speaks to remarkable people who are tackling some of the world's biggest challenges in ways only a child would imagine. From 'What if we could print our food?' to 'What if we made handbags using pineapples?' the curious opportunities are endless. 
Previous series include Super Self, which explores innovative wellbeing and self-care practices. The food episode is especially interesting (for me!) as it looks at how food can be used as a tool for social design. Other series include Good Nature, SELF-Sustainable and Fresh Eyes. All have incredible insights for us to learn from.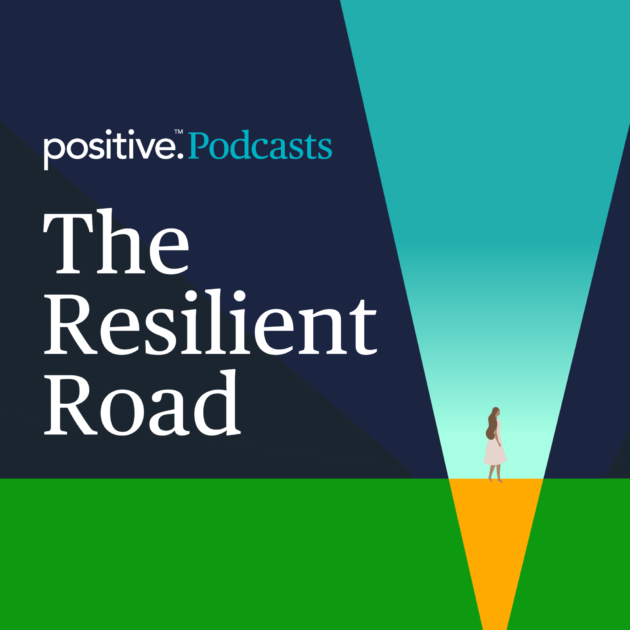 Dealing with life's challenges requires a tonne of resilience, and that's what this series focuses on. Positive Group psychologists Sinéad, Brian and Elle look at diverse stories of human perseverance and pick apart their coping strategies during desperate times.
This podcast is an insightful blend of psychology, neuroscience and medical science, which makes it an incredibly thought-provoking series. What's even better is you don't feel as if you're listening to something dry, or overly educational – you listen out of sheer curiosity and learn as you go.
This is a wonderfully uplifting series that brings us into the world of Soho House. Each episode we're taken to a new Soho House, where hosts share a meal or relax over drinks with a talented guest, from artists to activists, musicians and entrepreneurs. It's a brilliant way of crafting a 'fly on the wall' approach to this series.
We join GQ's chief content officer, Jonathan Heaf, and filmmaker and photographer, Sam Taylor-Johnson OBE, for coffee. We order room service with the award-winning journalist Emma Barnett. Each episode has a grounded, conversational tone and brings something new to the table.
Are you interested in making a branded podcast for your business? Let's have a chat. Email us at sales@auddy.co.